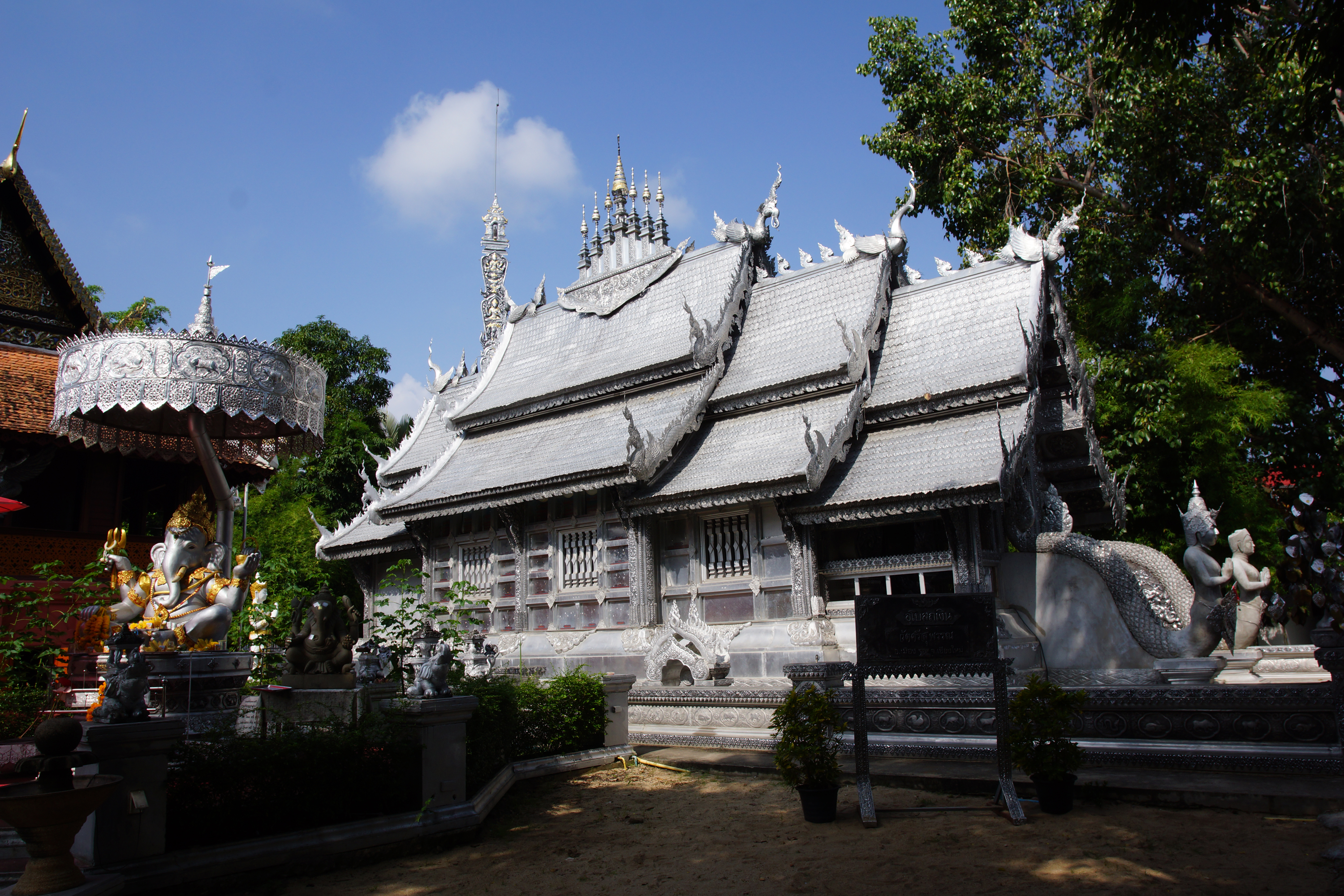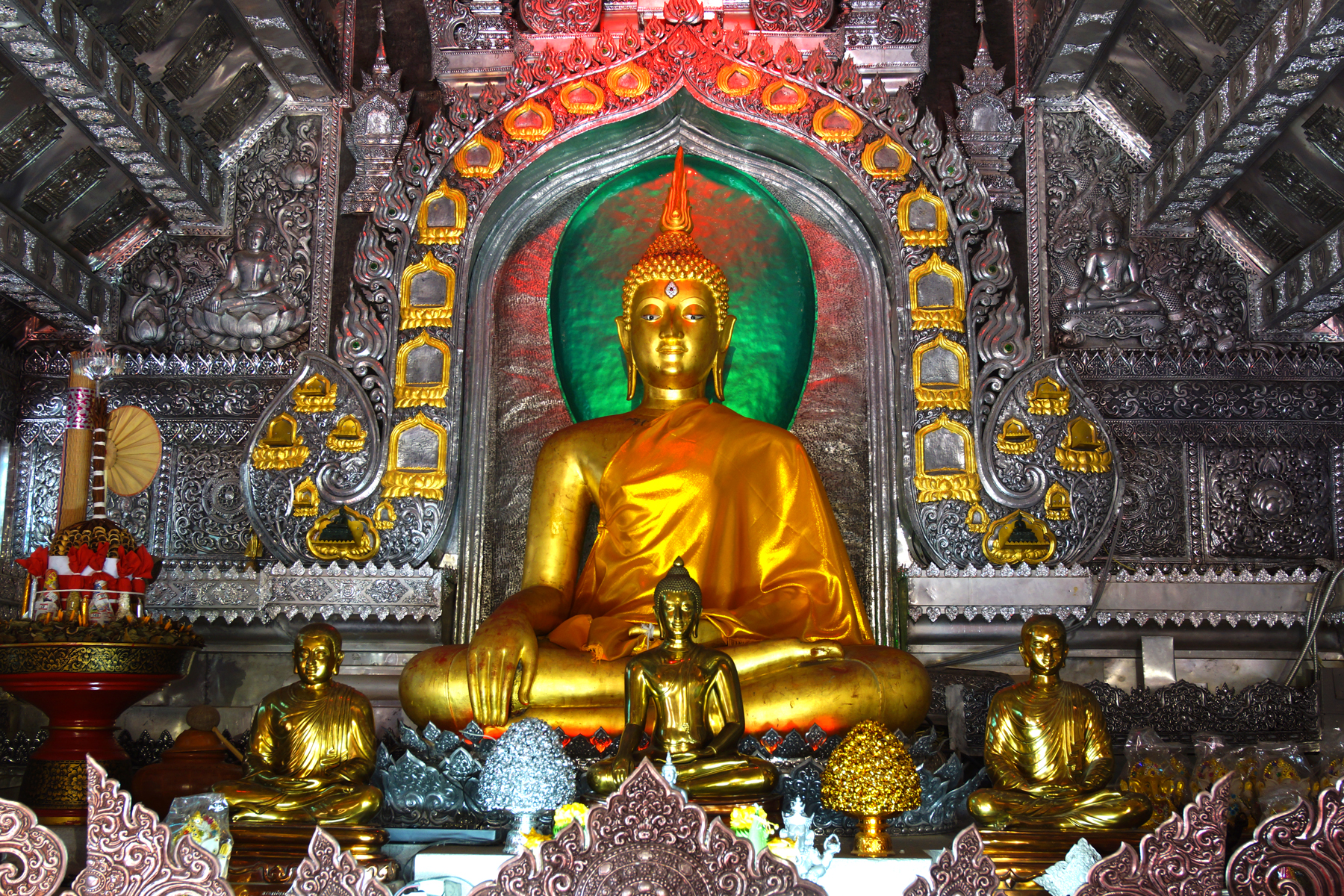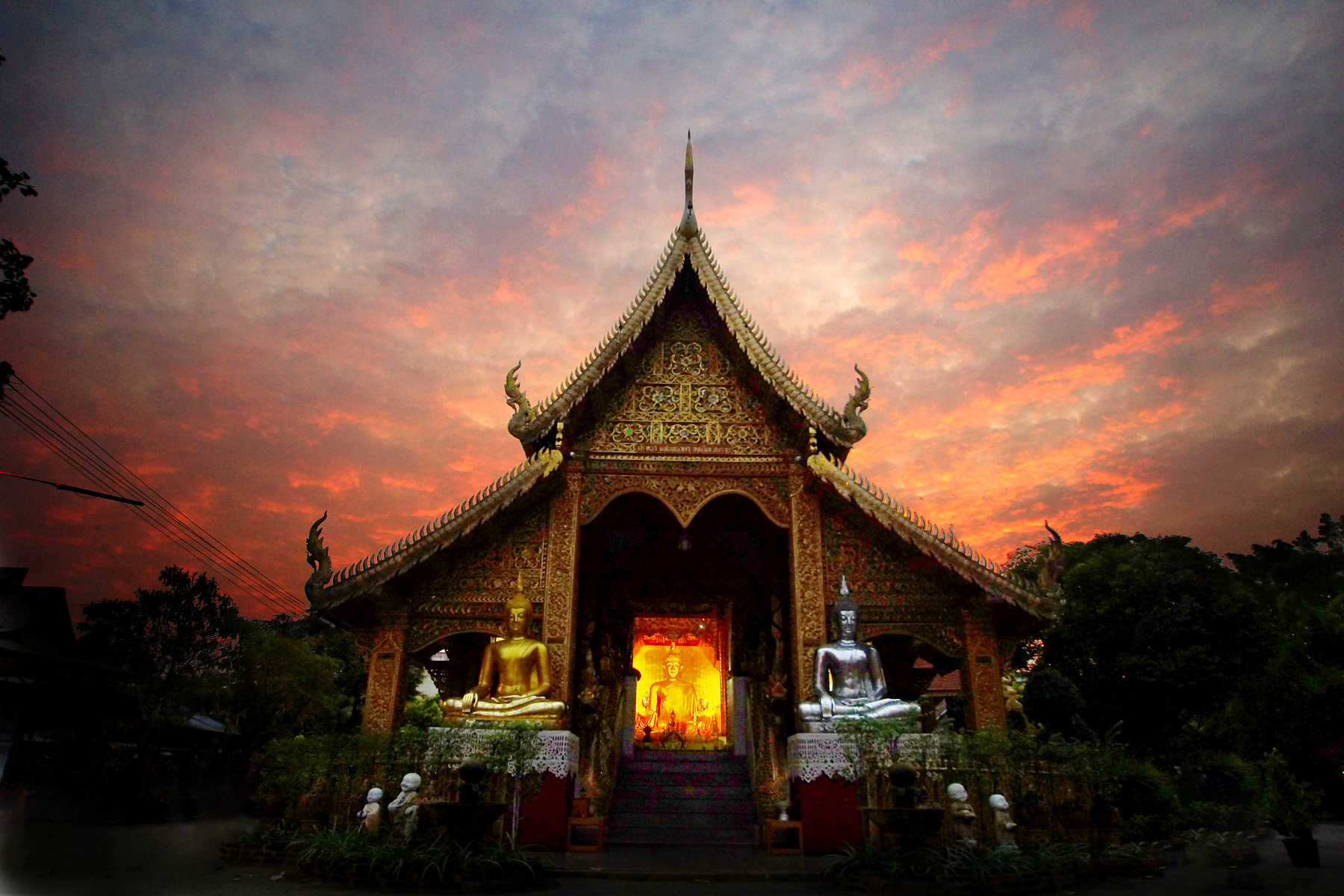 Wat Srisuphan
The first Silver Shrine in the world
Please to visit our unique Temple, take a look at the silversmith workshop and attend to our Monk Chat and Meditation Center
Wat Srisuphan and the Silver Shrine
Thai holy site has been first founded in the yesr 1501 C.E.(2043 B.E.)during Phaya Kaew (Mengrai dynasty) Kingdom. The king ordered to bring a Buddha statue in this site and established Wat Srisuphan Aram.In 1502 an abbot was appointed, the year after the Vihan was erected and on following year the Chedi was built In 1509 the Ubosot precinct was consecrated and Buddha relics enshrined.The Praputthapathiharn Buddha image (former called Pra Chao Jed Tue)was taken to be enshrined in the Ubosot (shrine),where it remains until this day. Due to the decay of the construction material, in these centuries the Ubosot has been rebuilt several times. The present restoration and silver coverage was started in 2004 C.E.by the present Abbot Pra Kru Phithatsuthikhun and is planned to finish in 2015.The decoration is both in Wualai and Rattanakosin style.The artworks are handmade by local Lanna artists using mostly alloy and include to the very high cost, silver is used on holy images only. Thai Ubosot will be included in the National Treasures List as Religious Distinct Site to the glory of King Rama IX and his people.
Ancient Lanna Arts Center
The Ancient Lanna Arts Center, known national wide as "Sala Sip Mu Lanna" is hosted at Wat Srisuphan in order to train young monks and any interested person to keep alive the ancient silverware art tradition .This temple also host the Lanna Arts and Crafts Group which take advantage of the lacal silverware knowledge and skills in order to raise found to sustain local members and build the Silver Shrine.
The Silversmith Workshop
Wat Srisuphan is a pivotal learning center for the ancient silverware art since it host and organize the Ancient Lanna Arts Study Center,know as "Sala Sip Mu Lanna",which goal is to train a new generation of craftsmen.It perfectly fits into the history of Wualai road as main center for silverware.The roots of this community can be traced back 200 year ago, during the reign of the Lanna king Kavila. Among the many initiatives he carried on in order to restore the city to ancient splendor, he invitrd vited villagers from the Salawin basin Known for they silverware skills to came to reside in a community outside chiang Mai walls. The community has become famous for its traditional silverware,valued today as national artistic and cultural heritage. The distinctive identity of Wualai silverware, which Wat Srisuphan strive to maintain,can be traced in the high relief pattern which differs a lot from relief patterns from central Thailand and ,curiously enough, in the use of the elephant instead of the pig in the twelve Chinese zodiac symbols.